Greenius Landscaping Industry Trends Report 2023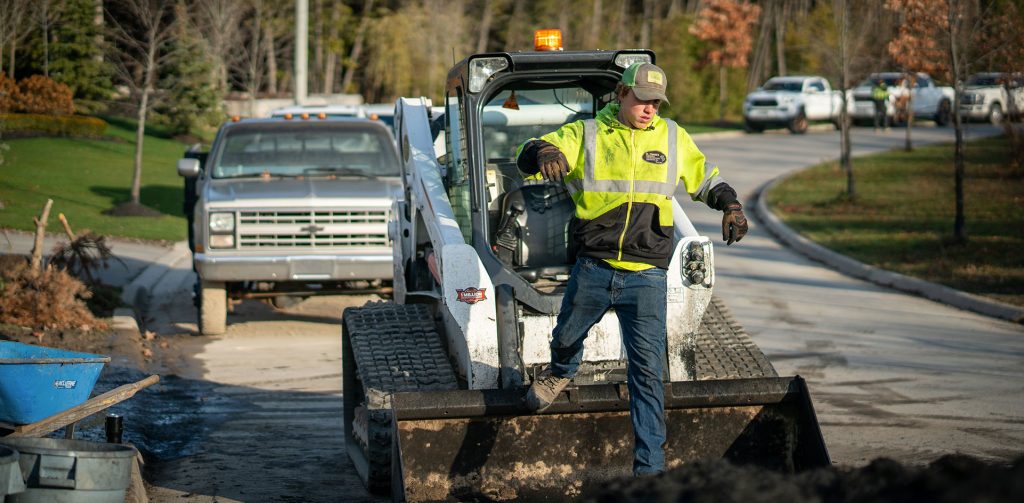 Greenius teamed up with LMN to survey 450 landscaping professionals on the current state of the industry and forecast landscaping industry trends across North America. Training and labor were identified as top challenges for landscaping business owners, as crew wages continue to climb and budgets tighten. Here are our insights on the landscaping labor trends for 2023.
The Labor Shortage Persists In The Landscaping Industry
Many landscape businesses are feeling strained when trying to hire anyone– whether it's laborers or foremen. In fact, 84% of the businesses surveyed say that it's their biggest challenge, even when labor challenges were called out alongside rising costs, undercutting competition, and equipment repair/management issues.
It's not just your business that's pressed for extra hands on the job site. Half of landscaping businesses surveyed (51%) said they're unable to find or hire enough staff to fill vacant positions. Employee retention also remains a key challenge. In a seasonal industry, it's common to expect turnover, but the data is staggering. Of those surveyed, 32% report losing a significant amount of staff members over the past year. In an effort to boost landscaper retention, businesses have looked to wage increases, bonus systems, and emphasis on career development to strengthen retention numbers.
Rookie Landscapers Aren't Developing Fast Enough
The current industry-wide labor shortage receives all the attention, but landscaper training for new hires isn't scrutinized nearly enough. Too many new hires are walking into job sites with minimal training as 58% of businesses let new hires start work without any formal training. In addition, 84% say that their business spends less than half a day of formal training before stepping on a jobsite.
This alarming number could increase in 2023 as more businesses try to keep on schedule while juggling the difficulties of finding more hands around the jobsite. Untrained new hires can be a detriment to job sites through more time spent training on the job, low employee retention, and unsafe and low quality work which will later result in costly rework.
It's often cheaper in the long term to spend time formally training new landscape crew members, regardless if they are laborers or crew leads. Setting expectations prior to stepping on the job site can decrease work interruptions and provide direction for the new hires. Your business should not want to be among the 52% of businesses surveyed that require a senior crew member to provide constant supervision of new hires regardless of mistakes. It takes away from your efficiency, which means you are less profitable at the end of the work day.
Landscaping Crew Wages Are On The Rise
Landscape business owners are tapping into their budget in an effort to retain staff as wage increases creep up across all industries. Even with the continuous revenue growth, profitability is taking a hit as 76% say that their business offered raises across the board to all employees, and 23% believe they gave significant raises to all employees. 
Landscape business owners are drastically trying to stop the mass exodus of skilled trades workers by offering competitive wages, and 80% of those surveyed also have a bonus program in place. While it's good news that landscaping business owners are creating bonus programs for their employees, 41% claim to offer bonuses without any stipulations or metrics associated with them. Bonuses are traditionally tied to reaching business milestones like hitting sales, profit, or revenue goals, and lacking a carefully thought out bonus system can be critical to your finances and profitability if left unchecked for too long.
Expect wages across North America to continue to rise. IBIS World forecasts a 3% rise in wages over the next 5 years in the landscaping industry as wages remain a major challenge for the green industry when attracting and retaining talent. Take the time to set and analyze your budget, properly job cost, estimate for profitable work, train and develop your crew members, and monitor efficiency metrics. If you understand your numbers, you will be able to adapt to the rising costs of labor.
Leverage Training Programs to Increase Retention
While 2023 holds many challenges for landscape businesses, having a structured training program and plan to develop your employees can help you attract and retain your best talent.
According to studies, 40% of employees who receive no training or even inadequate training will leave a job within the first year. The biggest reason for leaving? The employee was not learning or developing — not just an employee but as a person.
Implementing a landscape training program isn't just good for retaining your employees. Training is also good for your bottom line. Training helps reduce injuries, improve efficiency, and save on equipment and maintenance expenses.
Learn more about how Greenius's training program, designed for landscapers, can help you train, retain and manage your best employees and crews or book a meeting to chat with a solutions expert.
About Greenius
Greenius is an online training tool and Learning Management System (LMS) for landscape workers for equipment operation. The company uses live-action video, online exams, and an app-based Field Checklist. Greenius also incorporates an employee lifecycle tool with performance review capabilities.