The Impact of Marketing in the Green Industry – Landscape Leaders Highlights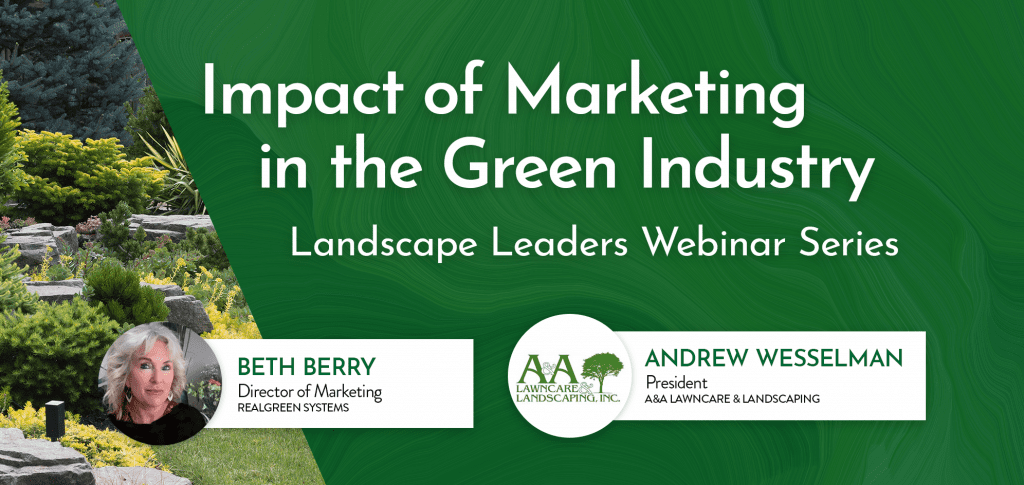 Landscape Leaders Webinar Recap with Beth Berry, RealGreen Systems, and Andrew Wesselman, A&A Lawncare & Landscaping
The following is a short highlight from the conversation between Beth Berry, Director of Marketing at RealGreen Systems, and Andrew Wesselman, Owner of A & A Lawncare. The pair discuss how Andrew transformed A&A Landscapings shotgun style of direct marketing to a focused, data-driven, approach; boosting their marketing ROI and overall success.

"…it's all about building the marketing database and knowing who is going to buy your services…" – Andrew Wesselman
How Andrew Has Evolved A&A Landscaping's Marketing Strategy Over the Years by Better Knowing Their Customers
Transcript from Landscape Leaders Webinar with Beth Berry and Andrew Wesselman (11:32) ? See Full Webinar Here
Beth: Tell us about the transition of your marketing mindset and strategy from 13 years ago to five years ago to today?
Andrew: So, 13 years ago, you know, like most we started with door hangers, and you know, we were hanging the door hangers and areas; one, we were already working in or areas that we want it to be in.
So that was, you know, still kind of a direct approach. So we were only advertising the clients that we wanted to do business with and in nice neighbourhoods and so forth. That had okay results, you know, then from that turned to door hangers again, but then we started putting prices directly on the door hangers so that they know what it's going to cost.
If they're going to call us – they're more than likely ready to buy at that point in time so that you know, we did that for many many years and I would say we probably really just stop that kind of a turning point five years ago and you know reason being was you know, we did a lot of research. I talked to a lot of people and realized that to take that same approach we did with the door hangers, focusing on the people that we want to do business with, and we want to do business with them, and alongside of the pricing standpoints and turn that to a direct mail approach to where we build our marketing database with customers in our area our region that we and we want to do business within the neighbourhoods that were already working in other neighbourhoods have collect growing and we gained that data.
The owner of the home, the address, City ZIP code and then we take that and we essentially filter all those homes out all that database and we flag good stuff that, you know, we basically rank our customers of you know one to ten or even unmarketable or unmeasurable and we take the square footage of the lawn.
And so, you know, for two or three months every year we gain new data and will manually scrub that here in our office and essentially put a square footage on those pieces that we mail out.
So why I say we took the same approach to the door hangers to the direct mail is now we can hit more areas. But with the same principles of knowing who we want to do business with and we're giving them a price right then and there, and an accurate price too, because the square footage is accurate – then we feel like we know that when they're either going to our website or when they're calling our office.
They're more likely to be ready to buy at this point in time.
So it's all about building the marketing database and knowing who is going to buy your services and when…
So last winter we actually took all of our active customers and sent them away and they scrubbed our active database to find the demographic of the people that are buying our services – that could be based on the age of the homeowner, or could be based on the area; could be based on the age of the house; it could be based on the square footage; income of the house; the value of the house – and they compiled all this data and rank our customers from a decile 1 to 10.
So now we know who's buying our service and we can kind of fine-tune this whole marketing database one step farther now to where we're going by data.
We're only now buying data of people that are already more likely to do this. This with us. So kind of takes one step out for us when we were kind of hand scrubbing it and we would just base that information off the area or lawn size.
This is, now, true accurate data that we are getting that's allowing us to improve our direct mail and again only focusing and advertising to people that we know that are going to buy our services.
Beth: That's brilliant, as [RealGreen] founder Joe Kucik would say "you're taking a rifle approach as opposed to a shotgun and just hitting everyone."
You can see the full discussion here ? and find out how Andrew evolved from his shotgun approach using generic door hangers to a rifle approach, targeting specific people with real landscaping job estimates.
? See the Full Landscape Leaders Webinar Line-Up and access all previous episodes On-Demand