Thank You, From Everyone at Greenius, for Your Continued Business and Support as We Grow and Improve
In everything we do, Greenius aims to provide the services, tools and courses that make employee training and development fast, simple and effective.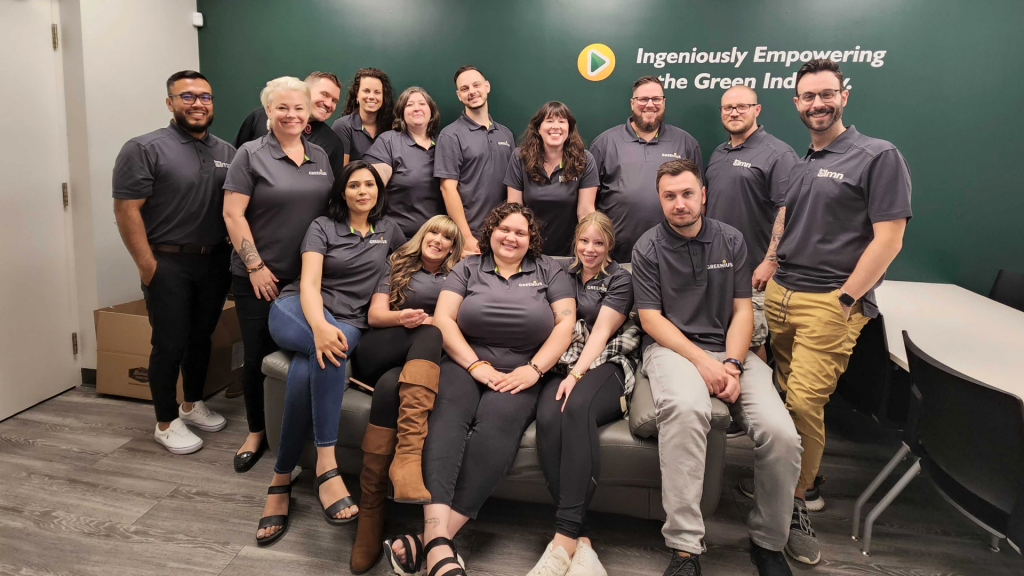 We've got a lot happening over here at Greenius and you may have already noticed some of the updates we've put into the pipeline. 
The new courses, features and automated tools available are designed to let you manage your Greenius program with ease, help drive profits and keep your teams safe. And if you need assistance? Our whiteglove onboarding, success, and support departments are dedicated to helping you along the way. 
Greenius is constantly growing to bring even more professional on-demand training and employee development. Be sure to check in with us to see what is new!
Again, thank you.
Explore New Training Tools and Features
Our expanded resource library includes new topics that prepare crews to work safely in all seasons with training courses ranging from Winter Plow Techniques to Heat Safety. In addition to new courses, we've launched some exciting new tools that give you the flexibility to manage your monthly billing.
Increased Production Quality

24 New Courses in English & Spanish

8+ New Snow Courses Coming for Winter 2022

Coming Soon: 50+ New Courses in English and Spanish
Expanded Tailgate Talk Library
100+ Tailgate Talks to improve crew safety, productivity, knowledge

Use in the Field

from

a Phone or Tablet
Automated Billing & Improved Invoices
Manage Users/Seats

Automated Credit Card Billing

Access Invoices and Payment Records
Enhanced Subscription Customization and Capabilities
Scroll down the left side of your Company Dashboard and you'll see a new menu option available: Subscriptions.   Here, you'll find the latest update, designed to give you complete control over your billing, invoicing, user management, and payment needs.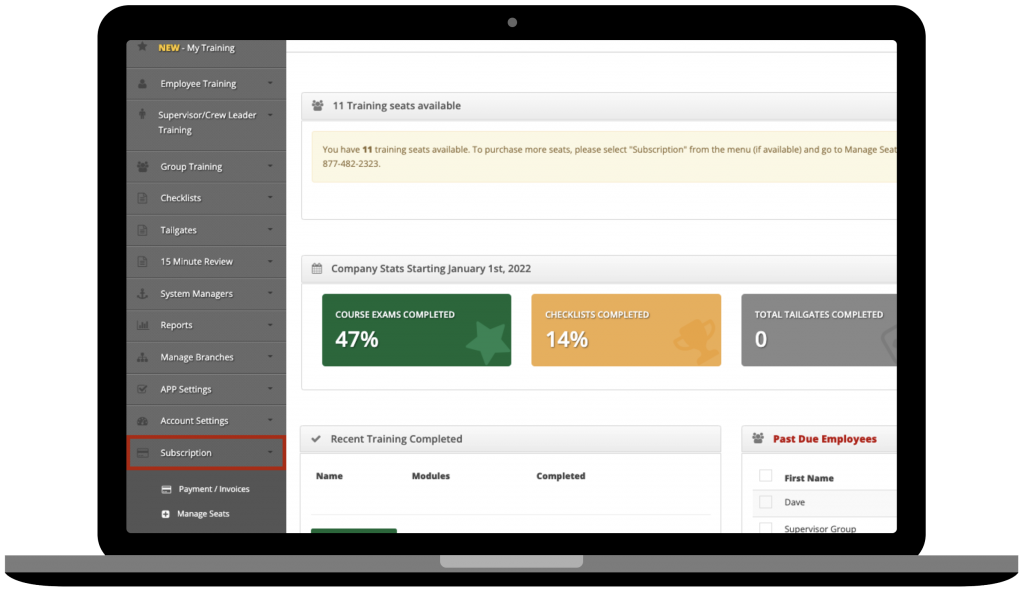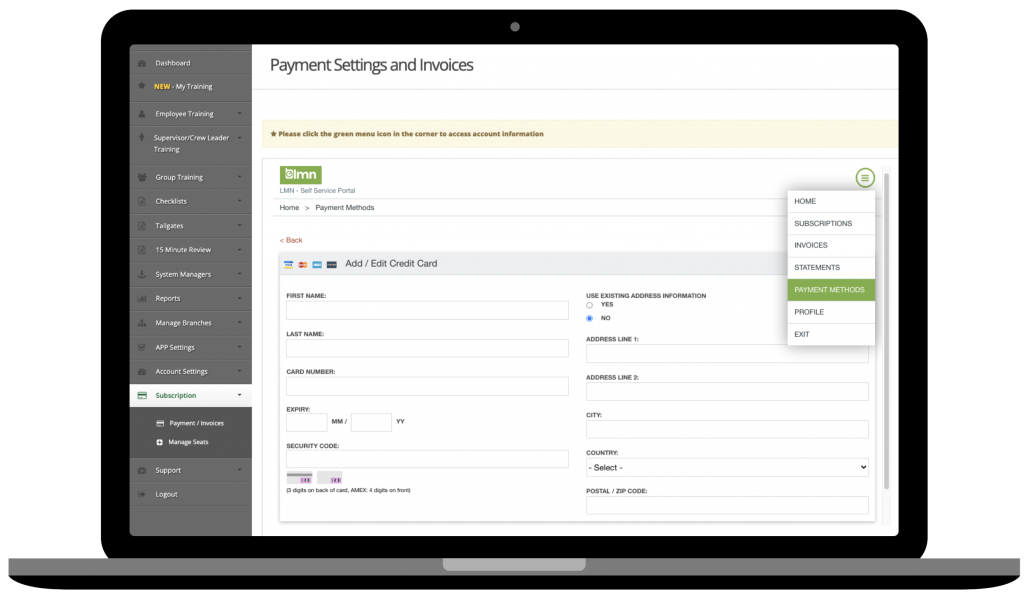 This is where you will go to update your billing information. We use an encrypted, cloud-based billing system to protect the privacy of our clients.
Want to see your latest invoice? Use the menu icon found within this window to review the most recent account activity or download a PDF copy of the invoice directly into your files.
Remember how we said that you are in total control of your billing now? We weren't kidding. 
We understand that every company is different and a one-size-fits-all approach just doesn't work. You can now buy additional seats as your company grows. Simply adjust the quantity to meet your needs.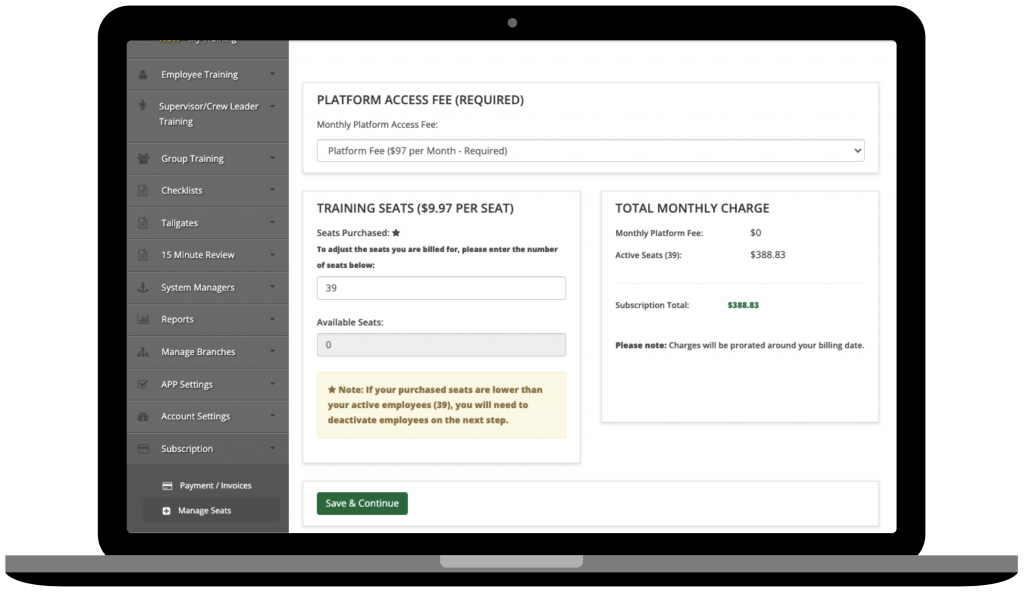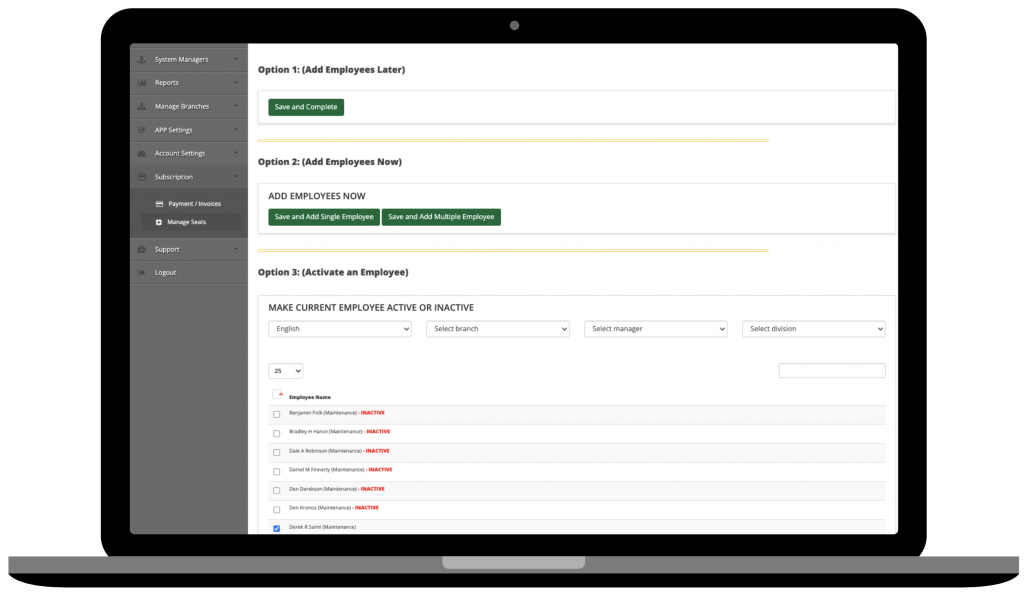 Next, activate your new hires in the system so they can begin to take the right training, for the right job, at the right time.
Need to restore deactivated employees? That can also be done from this page using the check box beside their name.
Watch Now: See How to Manage yourAutomated Billing or User Seats
Easily and quickly view invoices, change billing information and manage seat numbers directly from the Subscription tab.
Manage Your Payments and Invoices
Don't hesitate to reach out via our support chat system or by giving us a call. Our team members would love to provide you with the best possible experience on Greenius.
Our team of professionals has expanded to provide more support and guidance along with the steady flow of new features and improvements.
Call or Email our Support Team
Schedule 30-Minutes with one of our expert team members at a time that suites you.
Click the Green LIVE CHAT button at the bottom of every page.
Frequently Asked Questions