Professional Employee Training for Grounds Management Crews
Get Greenius Employee Training for your organization with a 60 Day Free Trail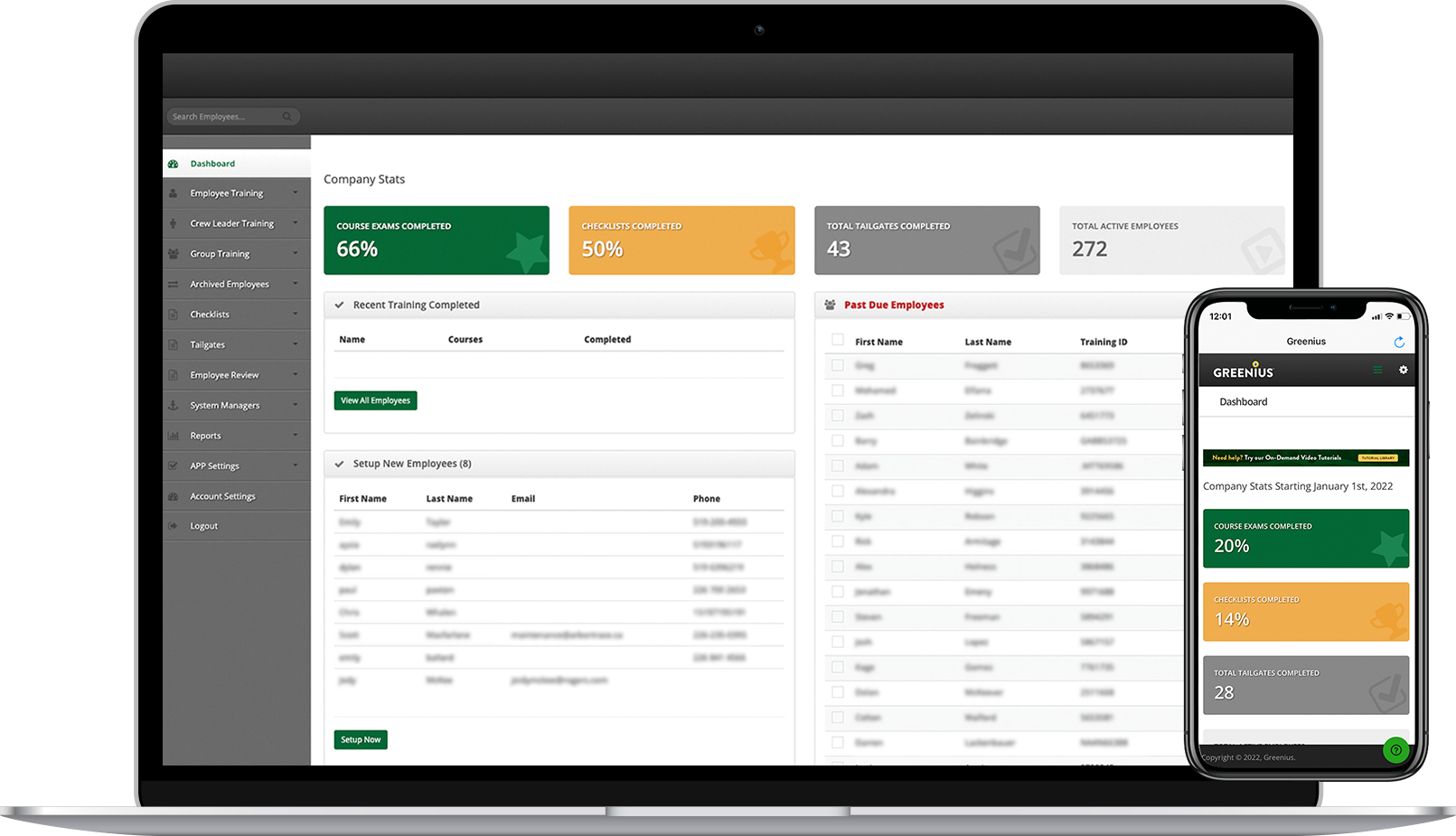 Used by the best in the industry, Greenius Training makes it simple and easy to develop rockstar crews using on-demand training and 360-degree employee reviews whether you're at the office or in the field.
Quickly Ramp-Up Your Seasonal Crews
Training From Anywhere
Grounds Management Skills Training
Personal Safety Training
Employee Management Tools
In-field Skills Checklists 
Custom Employee Performance Reporting 
Career Path Building 
Box and Wing Plow Training
Essential Snowplowing Techniques
Large Walk Behind Mower Training
Zero Turn Mower Training
Industry Leading Grounds Management Crew Training
15 + Years Providing Professional Employee Training
Over 1.3 Million Greenius Training courses delivered to front-line crews.
More than 30 000 hours of training videos watched.
Used in over 2600 locations from Municipalities to College Campuses across North America.
Over a Quarter-Million employees trained with Greenius.
Greenius is on-demand employee training software for the green industry. Our mission is to provide the training tools which will turn your rookies into rockstars. With over 50 courses in English and Spanish and 8+ courses for crew leaders/managers; Greenius is for the company owners who know the value of technology in their business.
Streamlined Pricing
Greenius Unlimited

$97 / Month
+ $9.97 / monthly user
and a one-time setup fee of $347

Unlimited access to the full course library for crew and management training
Add or remove users when needed with no contracts or commitments.

COURSE CATEGORIES
MAINTENANCE
CONSTRUCTION
SNOW MANAGEMENT
GENERAL SAFETY

"MINI SERIES" FOR SPECIAL SKILLS

SUPERVISOR/CREW LEADER TRAINING


ALSO INCLUDES
ONLINE QUIZZES
CUSTOMIZABLE FIELD CHECKLISTS
TAILGATE TALKS LIBRARY (110+ TOPICS)
DIGITAL APP
REPORTING


"Greenius has been part of our operation since 2010. It's simple for us. In our hiring process after initial interviews, we assign the training videos we want them to see. We do not hire anyone unless they've completed them! It has made a big impact on who ends up working for us, and has reduced our employee turnover and increased the quality of employees. This is not an expense — it is an asset!"
- Ed Hansen, President of Hansen Ltd., Ottawa, ON