We're at OACFP
Conference & Trade Show 2023
Huntsville, ON | October 3-5 2023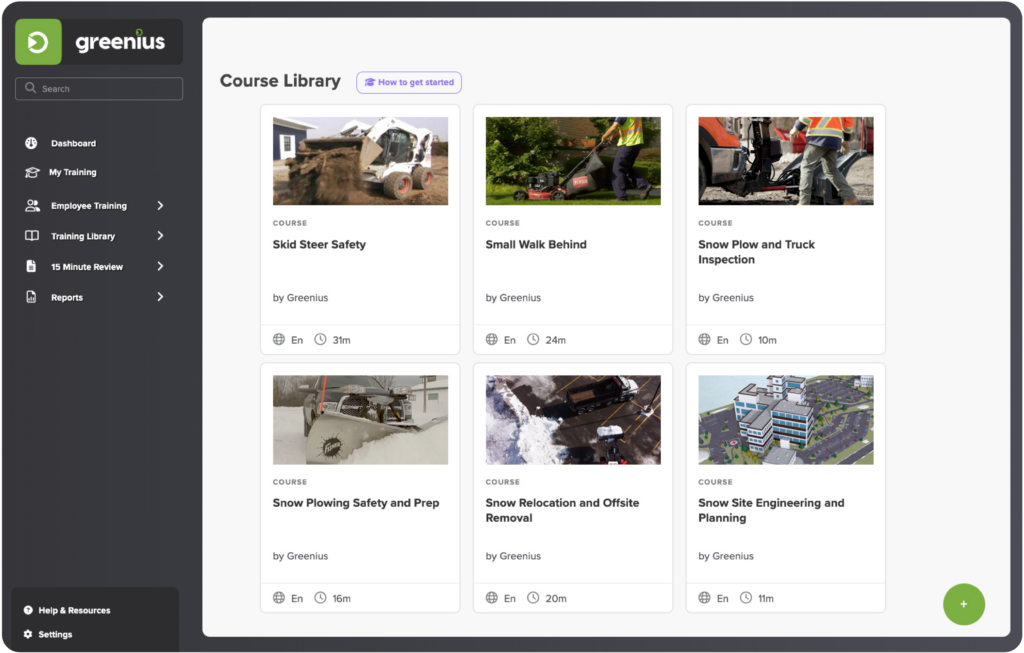 SAFETY. QUALITY. EFFICIENCY.
Hire, train and retain high-performance crews with the #1 training tool in the snow & ice industry.
Purchase with code FLASH50GRE by November 1
*Must add at least 5 users in the first 10 days to qualify.
With over 50 online training courses in English and Spanish, you can cover every aspect of your landscaping business, from onboarding new employees to ongoing equipment and safety training to ensure performance excellence.
On-demand Employee Training
Deploy an automated training program that ensures your teams get the training they need, when they need.
Empower your staff with meaningful insights into their training, on-the-job performance & create a better company culture.
Expansive Tailgate Talk Library
Keep your teams focused on the objective and safe on the job site.
Pinpoint areas for growth while uncovering how you can build a team by using their immediate feedback.
Access Training on any Android or iOS
Avoid wasted time between job sites.
The #1 Training
Software for Landscapers
Sign up for a live demo and learn how Greenius can help you build a high performing team for your Landscape Company.
*Offer valid through midnight EDT November 1, 2023. Offer is not available to customers who already have Greenius paid subscriptions. Typical fees are $97 a month plus $9.97 per month per user with a $497 set up fee for Greenius Pro. Savings are up to 50% off a paid Greenius subscription, which includes 50% off users for the first two months. Must add at least 5 users total in the first 10 days to qualify and maintain these users for at least 90 days. Full charges apply thereafter. For Greenius purchases, up to $6,000 in upgrades includes access to our exclusive Landscape Disruptors Mastermind Program launching in 2024 valued at up to $6,000. Contractor savings may vary, LMN does not guarantee the individual value of these offers nor a cash equivalent. Account must remain in good standing until the benefits have concluded. Cannot be combined with any other offer, once only on first signup per company or parent company.